back to all projects
Branding, Experiential
Ubisoft Connect
PERSONALIZED WRAP-UP
Celebrate your own personal Ubisoft journey here!
Context On October 2020, Ubisoft launched Ubisoft Connect, the biggest overhaul of its player ecosystem. This new universal ecosystem of player services is the evolution and consolidation of the former Uplay and Ubisoft Club services, and aims at giving the best gaming environment to all players on all platforms, to enjoy their games and connect with each other whatever the device. To create awareness around the release and get the players on-board with this new adventure, Ubisoft turned to various agencies to find the perfect creative and innovative way of creating personalized videos and static infographics based on the players journey and in-game datas.
Challenges From the three most played games to the number of headshot kills in Far Cry 5, the technical and creative solution needed to handle easily in-real-time rendering of more than 30 000 combinations based on the player's profile. While the rendering time needed to be fast to keep our players engaged, we had to deliver a seamless and highly personalized experience, celebrating each Ubisoft player individually, with top-level production value (content, narrative and visuals).
Our Creative Answer Before moving on the creative vision, we worked first on the perfect narrative structure. Since our goal was having the players watching the video until the end, the data needed to be first narrated in a fun and playful way. We wanted to create a real narrative, getting the players immersed into their own journey!
Based on this, we aimed to stand out by creating an empowering video showcasing each Ubisoft player as a gaming hero. From there, we worked on mixing epic gameplay footage, premium Motion Design playing with text animations and 2D/3D elements spicing up the data. The music was also key, since it's crucial to create an immersive user experience. Biborg wanted to compose an original music inspired by rock songs, conveying adventure, epicness and celebration.
Campaign Production Biborg finally came out as the winner of this pitch, alongside Idomoo, a Data-driven Video Platform, able to generate up to one million videos in real time, in cinematic quality!
We first took a thorough look at the data available sourced by Ubisoft and Idomoo to create a narrative structure and junctions that could match the different combinations, like the games played, the game types, the players profiles. Consequently, we came up with different videos and music lengths (more than 10 templates) depending on the structure.
For each of these dynamic datas, we wrote a specific wording that reflected each game's universe, using Easter Eggs, keyarts, 2D and 3D elements. Creating both static and video segments, we have been led to produce a total of 126 creative "blocks" assets including individual SFX and more than 39,624 total possible combinations of scenes in the videos and infographics.
The icing on the cake: some Studios agreed to share with us personal messages for the "Top 1" most played games, adding an even more exclusive flavor to the videos.
Results As soon as the Personnalized Wrap-Up was live, it was received with enthusiasm and numerous positive feedbacks were received on Twitter.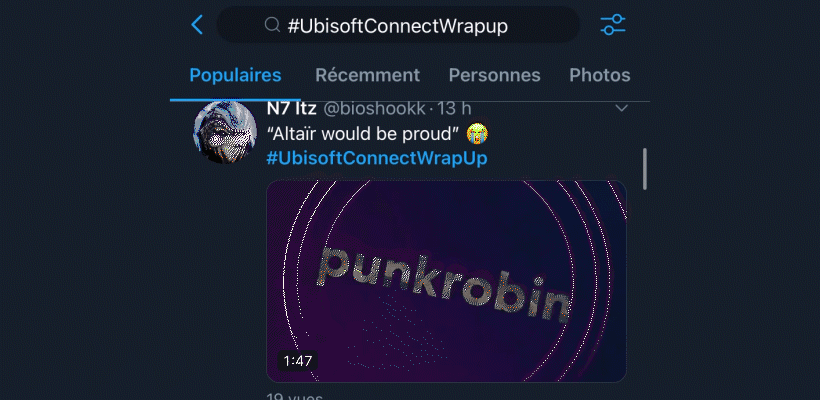 Follow the dedicated hashtag on Twitter!
Press Influencia (FR), CB News (FR), Jeuxvidéo.com(FR), GeekGeneration(FR), Beta News(FR), L'ADN (FR),ButWhyThoPodcast(EN), TheSaxon(EN), PlaystationLifestyle (EN) , MarTechSeries(EN),PRWeb(EN), ScreenRant (EN), Gamers(DE).